KIRK WILSON
Lead Software Architect
HEATHER KNOLLMAN
Accounting & Payroll Manager
MEECIS DAVIS
Account Executive
JAY WOODRUFF
Account Executive
MICHAEL WILLIAMS
Carrier Services
AUSTIN PARKER
Principal Accounts
Operations Lead
ERICH WATSON
Senior Account Executive
JAMES D'WOLF
Account Executive
TIM FOLZENLOGEN
Sales Support
DEVIN DOYLE
Carrier Setup Lead
SARIAH JONES
Accounting Team
LEE GALLENSTEIN
Vice President of Business Development
COREY FUSSINGER
Recruiter
No one said it would be easy. It was 2006. We had to deal with a Great Recession and a competitive logistics market. But we thought we had the drive to make it work.
So we set out to be different. Better.
We already knew we had great service. But we also knew we had to treat carriers better. So we did, and it paid off. While other companies were going bankrupt, we grew. The economy was down, we only had 3 employees, and we were the latest start-up. Still, we flourished.
The RTS philosophy was one customers and carriers could get behind. Over and over, we were chosen not just because we understood logistics, but because we understood people. We built and fostered what have become long-term relationships.
We've come a long way since that garage. Over 60,000 square feet, in fact. The RTS family also has its own fleet of refrigerated tractor-trailers, equipment leasing, and its own proprietary supply chain management software. Can your brother's rock band say that?
Apple, Google, Amazon, Harley Davidson, your brother's rock band…what do all these have in common? They all got their starts in garages. And RTS, like them, began in a garage (what better place to start a transportation company than where the vehicles are?)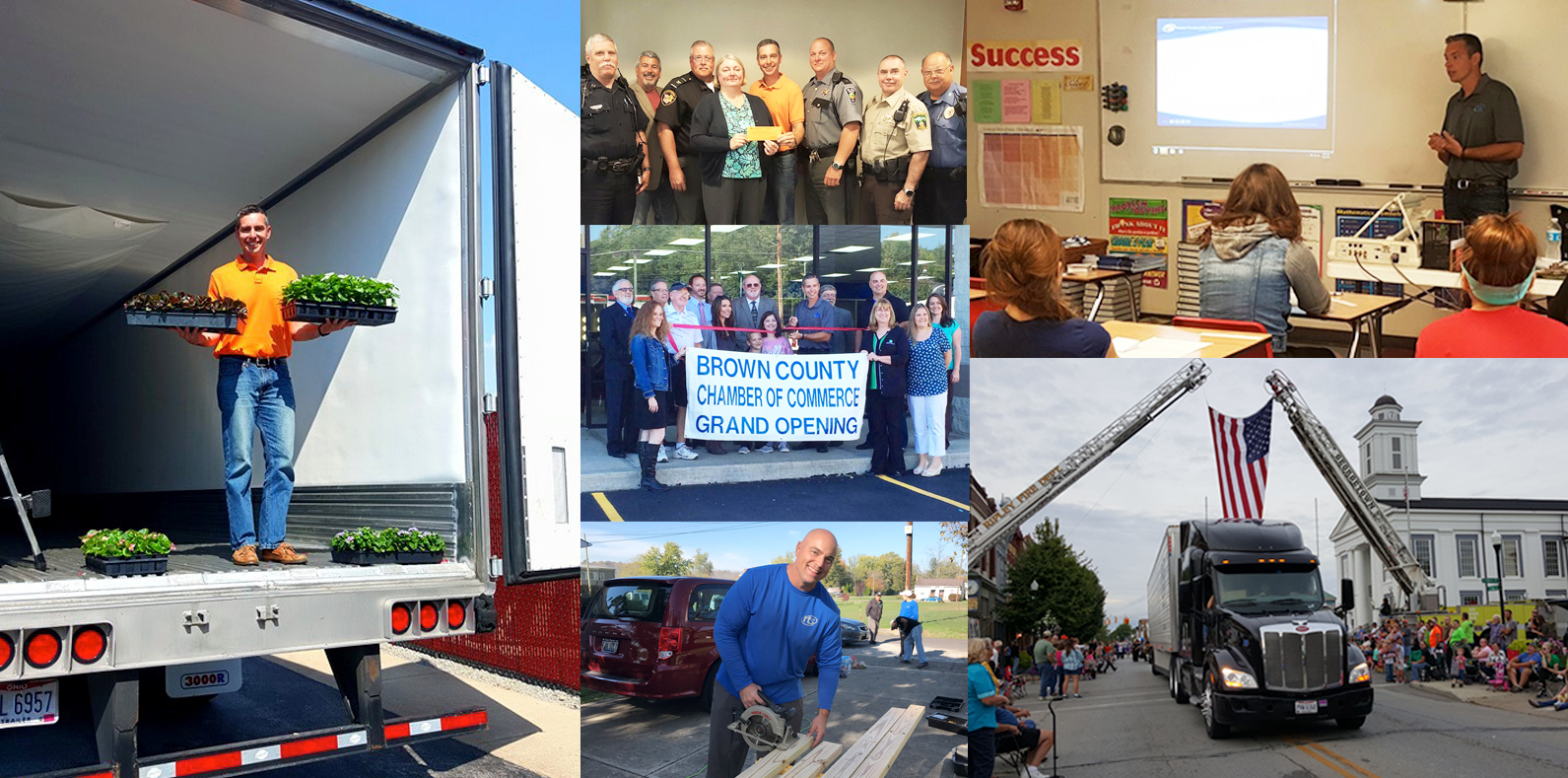 Work hard, volunteer hard…or, wait, is that the saying? It's true for us at RTS. We know our success depends on healthy and thriving communities, and we want to do our part fostering success where we live and work. We sponsor and assist with projects for local non-profits and community organizations that are helping to make our communities better places to live, and we participate in 5K events, parades, youth fundraisers, and activities with several local schools, all because we're driven to provide the best future possible for our community.
RTS has been a tremendous blessing to Georgetown Schools through generous donations and volunteer support.
PARTNERSHIPS
UNIVERSITY OF CINCINNATI,
Clermont College, Batavia, OH, www.ucclermont.edu
MAYSVILLE COMMUNITY AND TECHNICAL COLLEGE,
Maysville, KY, www.maysville.kctcs.edu
SOUTHERN STATE COMMUNITY COLLEGE,
Mount Orab, OH, www.sscc.edu
SHAWNEE STATE UNIVERSITY,
Portsmouth, OH, www.shawnee.edu
AWARDS
2014 PIONEER AWARD,
Brown County Chamber of Commerce
2016 DRUCKER AWARD,
Brown County Chamber of Commerce
2016 TOP 5 LOGISTICS COMPANIES IN CINCINNATI,
Cincinnati Business Courier
2017-2019 TOP WORKPLACE AWARD,
Cincinnati Enquirer
2019 EXCELLENCE IN IMPACT AWARD,
Clermont Chamber of Commerce
BROWN CTY DRUG & MAJOR CRIME TASK FORCE
BROWN CTY HEALTH & WELLNESS FOUNDATION
CYSTIC FIBROSIS FOUNDATION
CLERMONT CTY LAW ENFORCEMENT BANQUET
SAFE HARBOR OF HOPE
OHIO VETERANS HOME
NEW RICHMOND HIGH SCHOOL ATHLETICS
WESTERN BROWN YOUTH FOOTBALL
LOCUST CORNER ELEMENTARY
GEORGETOWN ELEMENTARY
GEORGETOWN HIGH SCHOOL
BEAST OF THE EAST FORK, YOUNG LIFE SEC
YELLOW RIBBON SUPPORT CENTER
WOMEN HELPING WOMEN PURPLE LIGHT WALK
STEIN HOSPICE
BROWN COUNTY ANIMAL SHELTER
SOLES4SOULS
HOSPICE OF HOPE OHIO VALLEY